Patios / Walkways / Driveways
Pavers - Interlock, Slabs, Asphalt, Gravel
We Specialize In Cost Effective Precast Concrete Paver (Interlock) Installations.

Apprize Landscape Design is a one-stop source in Ottawa for the design and installation of your patios, walkways and driveway. We follow the ICPS standards by using the ideal installation methods for laying down your precast concrete pavers/slabs. Doing so ensures that we will always have a successful installation in the long run.  What this means to you is having a durable and visually appealing finished job that will make you feel proud.
The high-quality products we use for your patios, walkways and driveways have an increasing amount of variety in colours and improving textures that are added every year. Since the products we use are fabricated in a control manufacturing environment, you can rest assured that the process is monitored closely to give you the best possible products.
As for the installation goes, we use suitable compaction equipment that provides a high-density sub-base, with a Geotextile Fabric underlay, which minimizes shifting. To keep the integrity of the edge pavers, we install P.V.C. Pave Edgers that prevents them from spilling out. Lastly, we finish the installation by sweeping Polymeric Sand which, once hardened by misting it with water, prevents the weeds and insects from getting in the joints.
What Are The Advantages of Using Precast Concrete Pavers?
Cost - less than flagstone and poured concrete or stamp concrete

Does not crack

Salt resistant

Withstands heavy loads on driveways

Comes in a large variety of colours and textures
Has a long term manufacture warranty

Pavers have a consistent thickness - no wobbling furniture on patio

Installation is easy and well executed

Easy to replace modular pavers in case of damage or stains
Other surfacing options are, flagstone set in mortar and forming for poured concrete, all poured on sites.  For either of those options, we recommend that you deal with a mason or a concrete specialist.
The main precast concrete suppliers in Ottawa are:  permacon.ca  and techo-bloc.com
Why Interlocking Pavers Are a Great Option Compared To Other Types Of Finished Surfaces.
The most important reason for being a great option is that Pavers comes in modular units. The advantages are multiple. It does not have a tendency to crack, since the modular units have a smaller surface area and have nobs between them that allows expansion in the heaving season. The installation is systematic and fast, making it very cost-effective. Finally, we have a variety of materials to choose from, making it easy to find the right product that suits your fancy. The key benefits are as follows :
Maintenance is minimal
Repairs are fast and easy, if the need should arise
Cost-Effective option compared to other types of Paving Materials
There are many Colors, Styles and Shapes to choose from
More Durable than other types of paving options
Permeable Pavers have bigger nobs and allow more water to infiltrate the joints and drain precious water into the ground or sub-base underneath. Blog – Permeable Pavers. Gravel based driveways maybe cheap, but they are prone to problems as they may cause skidding. Snow blowers can, potentially, pick up the gravel and hurl them to great distances.
PATIOS
Patios allows us to take advantage of all that great outside expanse, while giving useful space to your abode. Today's precast concrete paver and slab materials have evolved greatly since forty to fifty year ago. From the mere plain concrete slabs of yesterday we now have a greater choice of precast concrete paver and slab material that gives us a large variety of textures, colors, and configurations.
We mostly find patios on ground level but they can also be elevated higher by using compatible retaining wall materials.
Many amenities can be introduced to your patio such as:
Outdoor kitchen with BBQ, countertops and even outdoor fridge.
Pergola that is decorative and provides shade
Planter boxes for your favorite plants
Hot tub for relaxing times
Fire pit for memorable gatherings
Water feature for a calming effect
Lighting arrangement to extend your outdoor activities well into the evenings
Swimming pools for relaxing and having fun
Patios can be conformed to any shape that you desire. A well oriented patio can focus and introduce the rest of your backyard and make you want to explore and appreciate the rest of your gardens all that more. Choosing patio or walkway materials mostly comes down to function and very low maintenance benefits, and unlike decks, NO BUILDING PERMIT IS REQUIRED.
WALKWAYS
Walkways, like patios are really an extension of the same material and construction methods. There are three standards when it comes to the widths for paths and walkways
Primary Walkway: Should have a width of 42" – 48" that allows two adult walking side by side. This is mostly for connecting the street or driveway to the main entrance of a house.
Secondary Path: Should have a width of 24" – 26" that allows one person walking in a single file. This is mostly for connecting the house to a patio or outbuildings.
Seasonal Pathway: Should have a width of 12" – 16" that allows one person walking on stepping stones in a signal file. This is mostly for seasonal access to garden areas and is the least formal
Curbs give a good appearance and act as a deterrent to landscaped grass from spilling over onto the walkway.
Some Common Paver Stone Patterns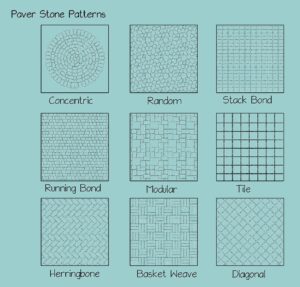 Driveways
Asphalt Paving for Your Driveway
The driveway serves a dual purpose for your home. It creates a pathway to drive vehicles up to your home and it enhances the curb appeal of your home. At Apprize Landscape Design in Ottawa, we offer asphalt paving services so you can enjoy a functional driveway that looks great and adds value to your home.
We Use the Right Processes for Installation
We start every driveway with a level layer of Geotextile fabric underlay to the right depth in order to give your driveway the strength it needs to handle regular traffic. Our professionals then compact the underlay with a heavy duty diesel roller or vibroplat. If you are replacing an older driveway, we may reuse the base if it contains no ruts. These ruts would be an indicator that the current base was not strong enough to handle the weight of traffic. Our professionals are dedicated to providing you with the highest quality in asphalt paving in Ottawa.
A Variety of Options
At Apprize Landscape Design, we offer a variety of options for your driveway paving in Ottawa. One of the most popular options is asphalt paving because of its durability and lower costs. However, some homeowners prefer the look of pavers. If you enjoy the look of pavers but don't want to pay the high costs, we recommend a combination of asphalt and pavers, giving you a beautiful look that really stands out. If you aren't sure what option is right for your needs and budget, contact us. We will go over your choices and help you make an informed decision.
Contact Us Today
Contact us today if you want superior interlocking stone solutions you can trust. We will be pleased to provide whatever assistance you may need.
Design considerations for Patios / walkways / Driveways .
- Pavers often come in smaller dimensions than slabs, but Pavers are a better option if thickness is preferred. The thicker 80 mm pavers are more suited for carrying the weight of a vehicle on a driveway.
- Smaller dimensional pavers make a better fit when installing curvature style installations, as it minimizes gaps and cuttings.
- Slabs come in larger sizes, but are thinner than Pavers. It helps to have the 50 mm slabs on top of an existing, poured concrete veranda or landing to accommodate the threshold height in the doorway. Also, Slabs come in 60 mm thickness for Patios and Walkways and so do Pavers.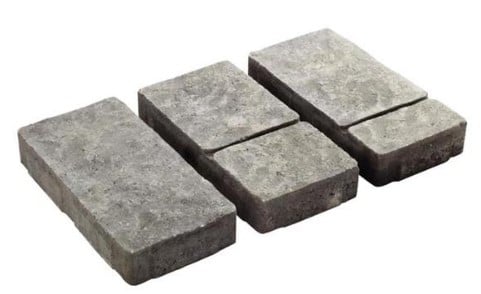 Paver 60 – 80 mm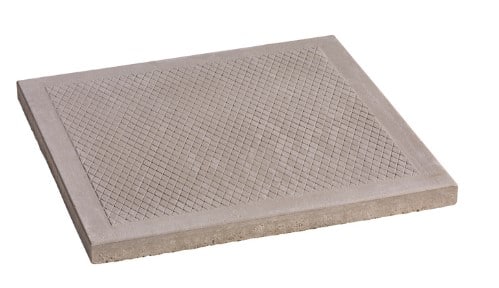 Slab 50 – 60 mm
- Some people prefer an angular design option, with straight lines and angles, because they like the clean look. Others prefer a curvature design option, with curves and circles lines, because they like a softer look.

- The angular design has a modern appeal that often compliments newer buildings. The angular design does not require much cutting to configure its shape, saving on labour and materials.

- The curvature design has more of a traditional appeal that often complements older buildings. Even though it requires more cutting to configure its shape, a curved design has a natural and flowing appeal.

Click and drag the Arrows to the left/right to view the full image
Let's talk, Get in touch today.
Please fill the form below, and we will contact you promptly!