Retaining Walls / Garden Walls
Add 3D vision to a Flat ground by using Walls
WE SPECIALIZE IN COST EFFECTIVE PRECAST CONCRETE RETAINING WALLS & OTHER ASSEMBLIES
Apprize Landscape Design is a one-stop source in Ottawa, for the design and installation of your retaining walls and numerous other assemblies. We follow the ICPS standards to get the correct installation methods, in laying down your precast concrete wall units (blocks and caps). Doing so ensures that we will always have a successful installation in the long run. This means, you have a durable and visually appealing finished job that will be your pride.
The high-quality products we use, for your retaining walls, garden walls, steps and pillars, have an amazing variety of colours and textures that keep growing each year. Since the products we use are fabricated in a controlled manufacturing environment, you can be assured it will be the best possible products.
Installation
For the installations, we use suitable compacting equipment, resulting in a high-density sub-base, with a Geo-textile Fabric underlay. This will help minimize shifting. Furthermore, in order to keep your wall assembly sturdy and level, we back-fill using ¾" clear granular stones lined with Geo-textile Fabric, to separate the wall from the soil back-fill. This helps the wall drain efficiently, in addition to a Big O 4" dia. Drain Pipe installed at the bottom part of the inner wall. If the retaining wall exceeds 4 ft. in height, we install rows of Geo-grid Tie-backs. The flat grid system, made of strong synthetic material, is laid flat and sandwiched between the retaining wall block units in multiple horizontal rows. This will help ensure that the hydro-static pressure behind the retaining wall, is kept in check.
  Geogrid Tie-backs      
Big O 4″ Drain Pipe
Our Main Suppliers: www.permacon.ca & www.techo-bloc.com
 The advantages of using precast concrete walls :
Costs less than Masonry wall and is more durable than wood

Manufactured to match with the Pavers, both in colour and texture

Uses the same sub-base used as pavers

Versatile - different assemblies can be built
Does not crack

Salt resistant, even if used for steps

Long term manufacture warranty

Installation is easy and systematic, reducing time and resources
Precast Concrete Retaining Wall is a better option compared to Wood walls
The most important reasons for being a great option is durability, plus it looks way better as a wall. Today, the Wood Railway Ties retaining walls are restricted, because of environment concerns due to their toxic infusion of Creosote. Nowadays, the 15 to 20 years old Wood Railway Tie retaining walls, are largely being replaced by Precast Concrete Retaining Walls stacking block units. For those, who prefer the wood looking retaining walls, you are in luck. There is a type of retaining wall that is sold, which is made of precast concrete with wood imitating textures and colours.

Borealis Precast Concrete Wall… imitates wood
Retaining walls don't just manage steep slopes and prevent erosion but they also create flat spaces for patios, gardens and lawns. They are also used to add the illusion of height to a flat yard thus creating a more three dimensional quality to your overall landscape. Garden walls are similar to retaining walls but do not have as much structural capacity. They are limited in height and are created to give more appeal to your elevated gardens. The more common materials used for building walls and steps are precast concrete blocks, poured concrete, wood and stones. It is far less expensive than a natural stone walls set in mortar and a lot more durable than wood walls and steps. Like all the other precast concrete products today they have evolved in many aspects such as its appeal to represent nature with all its textures and its earthy hues. There are many other assemblies that can be used with those different wall materials such as:
Free standing walls
Ditch headers
Benches
Lamp post pillars
Garden walls
Planter boxes
Fireplaces
Steps
Outdoor counters
Fire pits
The Versatility of Retaining Wall Materials
Steps can be built out of the same wall materials as long as the wall system comes with cap stones. It then can be used to create step platforms and landings because these materials are fabricated to accommodate steps building. As a result of using the same material for yours steps and walls you get an integrated look that ties in all your project nicely. For safety reasons sometimes railings are needed with your steps. The most popular choice are aluminum or ornamental iron railings that adhere solidly to the cap stone units of your steps.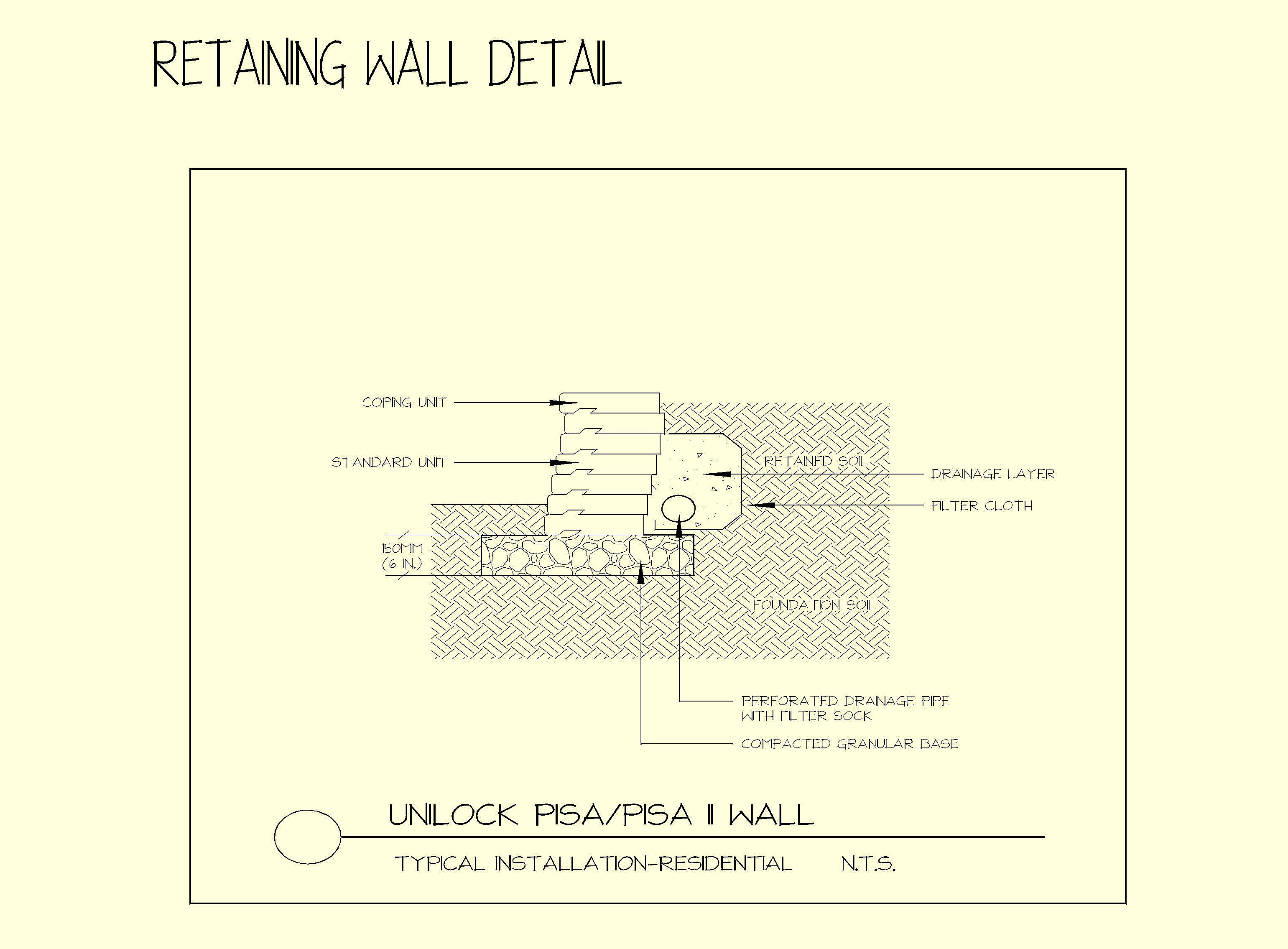 Explore the various options in Walls .
Though similar in function, Retaining walls, like Garden walls, are used primarily for structural purposes in holding back land, that would otherwise fall or erode away. Also, Retaining walls help create flat surfaces, thus making sloped land more usable and practical.

The physical difference in garden walls is the size of the block units, which weigh less and are smaller in size, compared to a retaining wall block unit. Garden walls, are more decorative and mainly contain plant material, raised from the ground to a higher elevation.
Though similar in looks, and using the same stones, they differ in the method of installation. The Dry Lay method uses the same procedure as a precast concrete garden wall. That is to say, the stones are simply stacked, one on top of each other without using mortar.

However, the Wet Lay method has a more elaborate procedure in its installation. Since it involves a poured concrete footing and mortar set in stone, it is preferable to employ the skills of a professional mason for this task.
Let's talk, Get in touch today.
Please fill the form below, and we will contact you promptly!